CLARIDGE GLASS - Magnetic Dry Erase Markerboards
CLARIDGE GLASS - Magnetic Dry Erase Markerboards
Our top selling wall-mounted glass markerboard that doubles as a magnetic tack surface!
Claridge Glass dry erase markerboards are stylish, functional and easy to maintain. Made from 1/4" low-iron, ultra-clear glass for exceptional clarity, Claridge Glass is available in 10 standard colors and over 180 optional powder coat colors, with three different mounting options. Standard sizes range from 2' x 3' up to 5' x 10'

PRODUCT CODE: MGMI = Invisi-Mount, MGM = Stand-off Edge Mount, MGM-TG = Through Glass Mount
Ultra-clear 1/4" low iron, tempered glass that won't ghost or stain


3 Mounting Options: Invisi-Mount, Standoff Edge or Standoff Through Glass Mounts


Steel-backed glass doubles as a "tack" surface

Includes 4 rare earth magnets


Select sizes available in 5' heights

Standard white Claridge Glass markerboards in 4'x4', 4'x6' and 4'x8' are available for expedited shipping (3 to 5 days)


Works with standard dry-erase markers

Claridge Glass is GREENGUARD Certified, eco-friendly, and emits no VOC's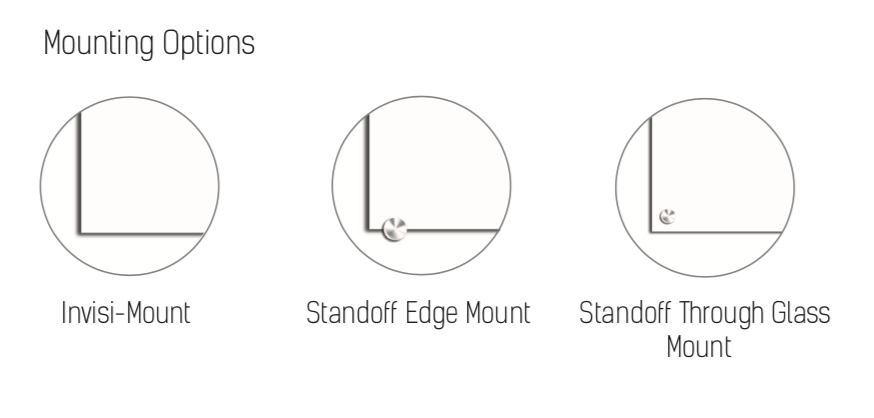 NEED IMMEDIATE ASSISTANCE? Give us a call at 800.434.4610
| | | | | |
| --- | --- | --- | --- | --- |
| MGMI-23 | MGM-23 | MGM23-TG | 24" x 36" | 42 lbs. |
| MGMI-34 | MGM-34 | MGM34-TG | 36" x 48" | 84 lbs. |
| MGMI-44 | MGM-44 | MGM44-TG | 48" x 48" | 112 lbs. |
| MGMI-46 | MGM-46 | MGM46-TG | 48" x 72" | 168 lbs. |
| MGMI-48 | MGM-48 | MGM48-TG | 48" x 96" | 224 lbs. |
OPTIONS:
Logos and custom printed graphics

Custom sizes and shapes

Over 180 powder coat color options, or custom match colors - View Color Guide

NEED IMMEDIATE ASSISTANCE? Give us a call at 800.434.4610
HOW TO SPECIFY

Company / Manufacturer: Claridge Products


Product Name: Claridge Glass Dry Erase Markerboard


Size: from 2' x 3' to 4' x 8'


Color: Brilliant White is our standard white color (choose from 10 standard colors or 180+ optional powder coat colors)


Mounting Option: Choose from Invisi-mount, Stand-off Edge, or Stand-off Through Glass Mounts

Orientation: Portrait or Landscape


Quantity: TBD

Please feel free to copy and paste this into your order or request for quotation specifications.

NEED IMMEDIATE ASSISTANCE? Give us a call at 800.434.4610


GLASS WRITING SURFACE GUARANTEE
When properly installed in a suitable environment and under normal intended usage, care, and maintenance, including the use of proper markers, erasers, and cleaners; Claridge glass markerboard writing surfaces are guaranteed for ten years. This warranty excludes, among other things, any and all damages resulting from earth movements or any other natural and/or man-made disasters. We do not recommend the use of abrasive cleaners on the glass surface as they may dull or "pit" the surface of the glass. The guarantee covers replacement of defective surfaces but does not include damage to the edge of the glass board, the cost of removal or reinstallation.
Claridge stands behind every product we make; we are confident that with the proper care and maintenance, our products are the most durable of any in the industry today. Please take the time to read and follow the guidelines we've outlined to ensure that your visual display surfaces will reach their full potential for the life of the product.

NEED IMMEDIATE ASSISTANCE? Give us a call at 800.434.4610
FREIGHT POLICY
Every effort will be made to ship in accordance with customer requested freight carriers. Claridge is not responsible for damage in shipment when the product is shipped on a third party or collect basis. In the event of visible freight damage, note the damage on the freight bill and notify the carrier at once for inspection. Note that carriers require reports of damage within 5 days. Failure to report visible damage or loss is the consignee's responsibility. Concealed damage or loss is the consignee's responsibility. Concealed damage identified after 5 days from receipt is the sole responsibility of the consignee.
NEED IMMEDIATE ASSISTANCE? Give us a call at 800.434.4610